Curious about what you can create with a Sentro knitting machine? These machines are an excellent way to produce unique and customized pieces of knitwear. With a Sentro machine, you can create a wide range of items, from hats and bags to blankets and even dog sweaters. The possibilities are endless!
If you're new to knitting or in need of inspiration, this post provides plenty of ideas to help you get started with using your Sentro knitting machine.
Quick Ideas of What to Make with a Sentro Knitting Machine
A Sentro Knitting Machine is an amazing tool that can produce stunning pieces in no time. It is perfect for anyone who loves to knit but wants to save time and effort. Here are some ideas on what you can make with your Sentro Knitting Machine:
Hats
A cozy hat is a perfect accessory for cold weather. With a Sentro Knitting Machine, you can create a hat in no time. You can choose the color and pattern that suits your style and keep your head warm during the winter.
Scarves
A stylish scarf is a great addition to any outfit. With a Sentro Knitting Machine, you can create a scarf of any length and width. You can choose the color and pattern that matches your style and add a pop of color to your outfit.
Headbands
A cute headband is a must-have accessory for any workout. With a Sentro Knitting Machine, you can create a headband that is comfortable and stylish. You can choose the color and pattern that suits your style and keep your hair out of your face during your next workout.

Mittens
A warm pair of mittens is essential for cold weather. With a Sentro Knitting Machine, you can create a pair of mittens that will keep your hands warm and toasty. You can choose the color and pattern that matches your style and stay cozy during the winter.
Sweaters
A trendy sweater is a perfect way to show off your knitting skills. With a Sentro Knitting Machine, you can create a sweater that is unique and stylish. You can choose the color and pattern that suits your style and wear it with pride.
How To Make A Jumper On The Sentro Knitting Machine
How to Make a Sweater on the Sentro Knitting Machine
The Sentro Knitting Machine is a versatile tool that can be used to create a variety of unique items, including clothing, blankets, hats, and more. In this guide, we will focus on making a jumper using the Sentro Knitting Machine.
Here are general steps for making a jumper on a Sentro Knitting Machine:
Choose a pattern: First, select a pattern that you like and that is suitable for your skill level. You can find patterns in knitting books, online, or even create your own. This is the fun part, so take your time and choose something that you'll enjoy making!
Choose your yarn: Next, choose a yarn that you love and that will work well with your pattern. Make sure to check the yarn label to see what size and tension the yarn requires.
Set up your machine: Get your Sentro Knitting Machine ready by attaching it to a table or stand and inserting the required number of needles for your pattern. Don't worry, this is easier than it sounds!
Cast on: Cast on the number of stitches required for your pattern. You can cast on by hand or use a cast-on comb tool. Take your time and make sure you have the right number of stitches.
Knit the body: Use your machine to knit the body of your jumper according to the pattern instructions. Pay attention to stitch patterns, increases, and decreases. This is where your pattern will really start to take shape!
Knit the sleeves: Knit the sleeves of your jumper separately on the Sentro Knitting Machine. Again, follow the pattern instructions for stitch patterns and shaping. This is where your jumper will really start to come together!
Join the pieces: Once the body and sleeves are complete, it's time to join them together. You can do this by using a crochet hook or a sewing machine, whichever you prefer. Take your time and make sure the pieces are lined up correctly.
Finish: Finish off your jumper by adding ribbing to the collar, cuffs, and hem. You can do this on the Sentro Knitting Machine or by hand. This is where you can really customize your jumper and make it your own!
Block: Finally, block your jumper by washing and shaping it to the correct dimensions. This will help your jumper keep its shape and look great for years to come.
These are general steps, and the process may vary depending on the pattern you choose. It's important to read the pattern instructions carefully and follow them closely. Don't worry if something doesn't look right at first, take a deep breath and remember that knitting is supposed to be fun!
Free Sentro Knitting Machine Patterns!
If you're looking for Sentro knitting machine patterns, you've come to the right place! We've pulled together some of our favorite FREE patterns!

Our first pattern is a basic scarf that's perfect for beginners and works well with fingering-size yarn. It's a versatile accessory that can add a stylish touch to any outfit. You can wear it draped over your shoulders or wrapped around your neck in different ways.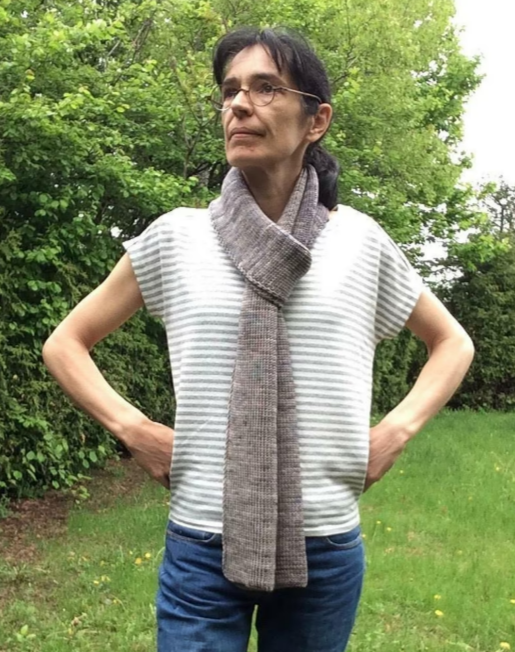 SIMPLY SOFT Scarf - Knitting Pattern
Want a simple scarf that will please everyone? Here is SIMPLY SOFT, the perfect scarf that will highlight the Fingering size yarn you choose!
The idea is to choose a yarn dyed by hand, with a color full of nuances, like BELLE by Artfil. It is fully knitted 1x1 rib, which gives it softness and allows it to be reversible. This model is very simple to realize, it is ideal for beginners wishing to realize a first project, to train with knit and purl stitches. This model is also explained for knitting machines (double bed).
View Pattern
The next pattern is for a crochet headband, It's a great choice for beginners looking for something easy to make.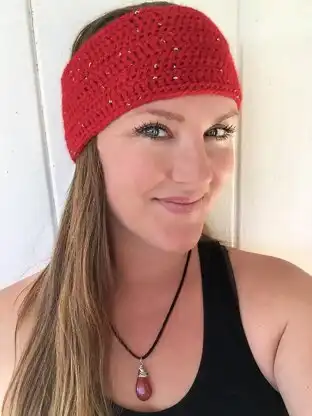 Sparkle Motion Crochet Headband Crochet pattern
This is a simple pattern for beginners! It's so easy, and that's why it's free! I love the movie Donnie Darko, and for some reason, when I was making this, it reminded me of the little girl dance troupe . So, it's amply named, Sparkle Motion.
This is a headband/ear warmer and uses only single crochet (sc) and double crochet (dc) stitches.
Materials: Hook: G Yarn: Premier Yarns Isaac Mizrahi - Broadway yarn in Imperial colorway (RED) - Glitter, Sparkle Worsted weight (4)
Hope you enjoy this free pattern! It's easy, and great for beginners. I used a knitting machine to make a matching scarf and I love it!
View Pattern
You'll find a wide variety of reasonably priced paid patterns too!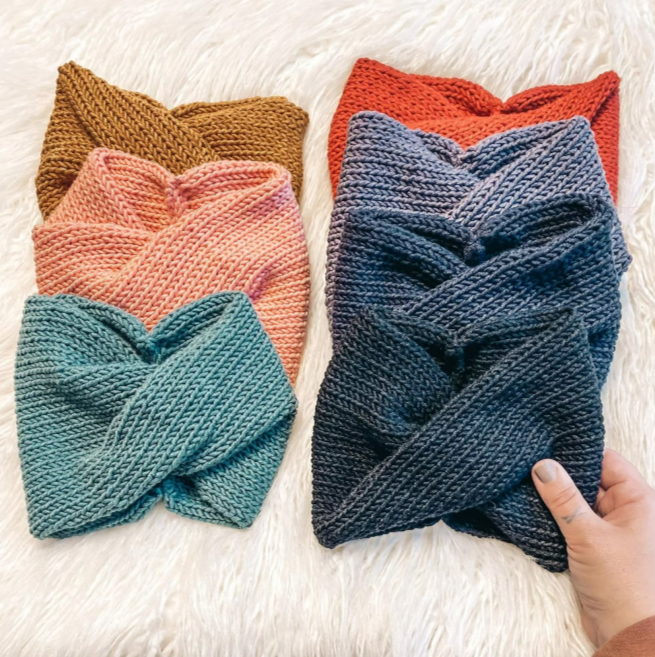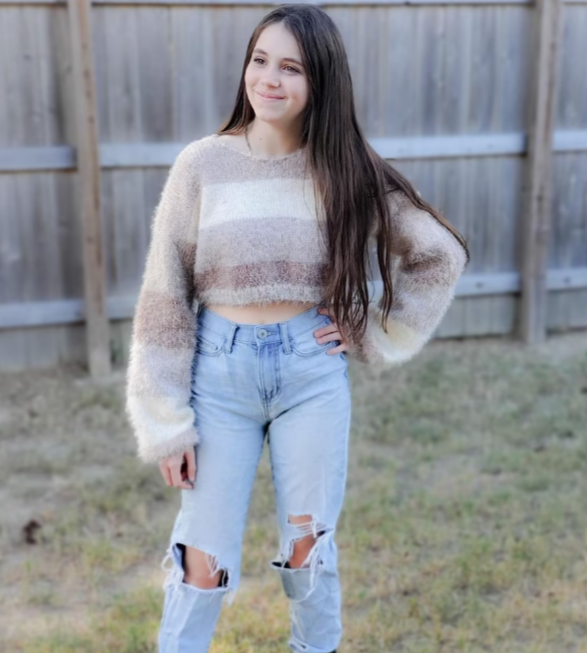 Latte Cakes Cropped Sweater Machine Knitting Pattern
This pattern uses Caron Latte Cakes and makes a wonderfully soft and fluffy cropped sweater. You are welcome to use any yarn as long as it matches the gauge. But keep in mind, it may alter the finished look of the sweater.
I designed this pattern on my LK150 knitting machine but you can use any mid-gauge machine. You are welcome to use a different gauge machine as long as the gauge matches. The pattern included pictures, video tutorial links, and a schematic.
View Pattern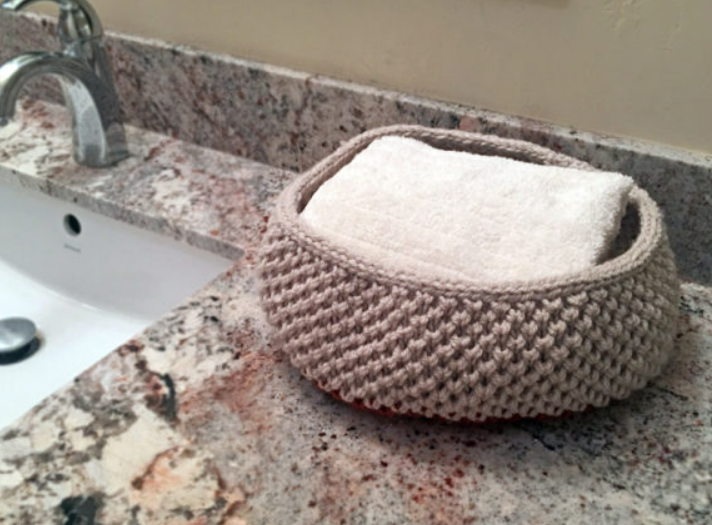 Fetching Basket Knit Pattern
Skill Level: Intermediate
The two-tone color combination can be personalized to your decor, and the decorative edging finishes the look.
Recommended Yarn
Made with medium worsted weight you will need:
150 yards of Color A
200 yards of Color B
View Pattern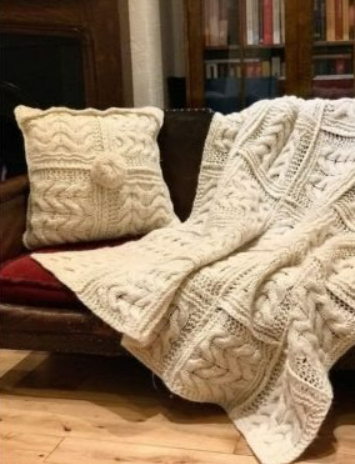 Cable Squares Blanket and Cushion Cover
If you have some yarn stash, or might you love to take your knitting with you where you go, like me, – this pattern is exactly what you need! Knitting pieces is so convenient! Use any oddments you have. Any colour or a different colour for each square looks amazing. Or might two strands of different colours? It's up to you!
View Pattern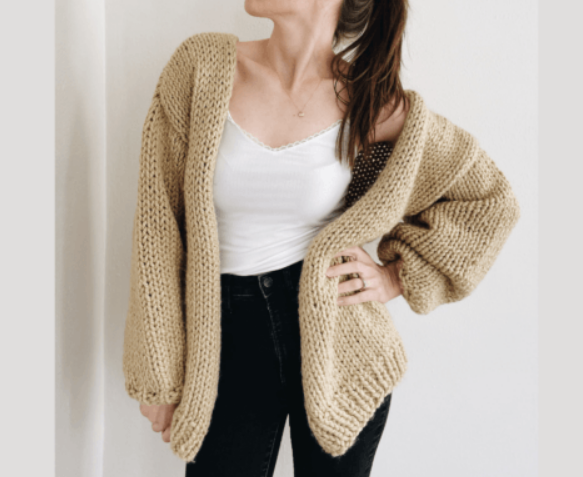 The Cannady Cardigan Pattern
The Cannady cardigan is a simple and relaxing to knit chunky sweater with an oversized fit. It's a cozy knitwear staple that's easy to style. Work it up using basic stitches and shaping and consider it your next favorite layering piece. Uses weight 6 yarn and 12.0mm needles (substitute if needed to achieve gauge).
View Pattern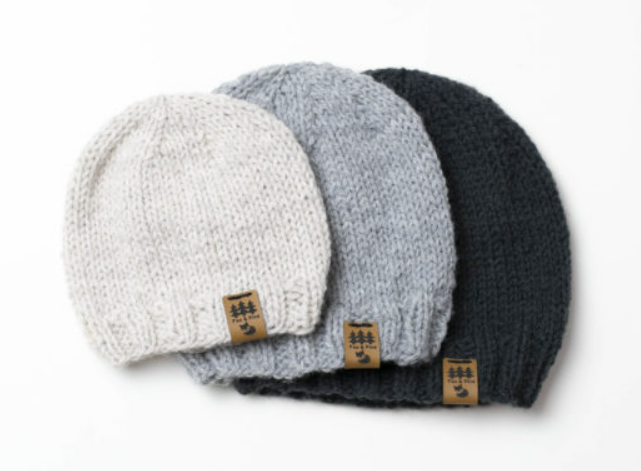 Solid Wool Hat Beanie Toque Knitting Pattern
Our perfect medium weight hat knitting pattern is perfect for making handmade gifts for your loved ones, young and old.
Sizes: 0-3 Months, 3-12 Months, 1-2 Years, 3-12 Years, Teen/Women, Men.
Yarn: Any worsted medium weight (#4) yarn. The yarn used in the photos is Lion Brand Wool Ease.
View Pattern
What Can You Make With A Circular Knitting Machine?
Circular knitting machines are an amazing way to create unique and personalized pieces of knitwear! With a Sentro machine, you can make hats, bags, blankets, and even dog sweaters! There is probably a pattern out there for whatever you want to make.
Using a knitting machine can save you a lot of time. For example, if you were knitting a blanket by hand, it would take hours. However, with a machine, you can finish it in a fraction of the time!
Another great benefit of using a circular knitting machine is that it can help you create even and consistent stitches. When knitting by hand, your stitches may not be as uniform as they could be. But with a machine, each stitch will be exactly the same size every time. This is especially helpful for creating precise stitching on something like a sweater.
If you're thinking about purchasing a circular knitting machine, or if you already have one, start exploring all the different things that you can make with it! You might be surprised at how many possibilities there are, so let your imagination run wild and have fun with it!
What Are Knitting Machines Good For?
Knitting machines have come a long way since their invention in the 15th century. These days, you can use them for all kinds of projects, from clothing to home goods like blankets, and they offer several advantages over hand-knitting.
One of the biggest advantages is speed. With a knitting machine, you can complete large orders or finish your latest creation in record time. Plus, you'll get consistent results every time, thanks to the precise stitches made by the machine.
Another great feature of knitting machines is their ability to create complex patterns and designs that would be difficult or even impossible to make by hand. If you're looking to add some extra flair to your next project, consider investing in a machine that can handle more intricate stitches. Keep in mind though, that some machines can be quite expensive.
However, there are also many affordable options that can still provide excellent results. When choosing a machine, it's important to consider your needs and budget to find the best option for you. Whether you're an experienced knitter or just starting out, knitting machines can be a great addition to your crafting toolkit. Happy knitting!
What Yarn Can You Use With A Sentro Knitting Machine?
When using a Sentro knitting machine, it's important to choose the right yarn. Yarns that are specifically made for machine knitting are a great option because they are usually finer and smoother than hand-knitting yarns. This means they are less likely to snag on the needles or get caught in the machinery.
Some great options for machine-knitting yarns are mercerized cotton, microfiber, and acrylic blends. To avoid damaging the needles or causing other issues, it's important to steer clear of thick or chunky yarns with your Sentro knitting machine. If you're not sure which type of yarn is best for your project, don't hesitate to ask a friendly salesperson at your local craft store or check out the manufacturer's website for more information.
What Is The Best Knitting Machine For A Beginner?
If you're a beginner looking for a knitting machine, I highly suggest checking out the Sentro 48 Knitting Machine. Not only is it budget-friendly, but it also has a wide range of features that make it perfect for creating a variety of knitting projects. Plus, it even comes with an instruction manual and DVD to help you get started on your first project.
Conclusion
The Sentro knitting machine is an amazing and innovative tool that can bring your creative ideas to life, whether you're a seasoned knitter or a beginner.

One of the things that make this machine so special is that it works quickly and efficiently, enabling you to produce items much faster than you could by hand-knitting. This means you can make more items in less time, which is perfect if you want to sell your creations or give them as gifts.
What's more, the Sentro knitting machine allows you to experiment with different stitch patterns and textures, so there are countless possibilities when it comes to designing and creating items. You can try out different colors, stitch patterns, and yarns to see what works best for your project.
In addition to making clothing and accessories, the Sentro knitting machine is also great for creating home decor items like blankets and throw pillows. These items can be personalized to match your existing decor, and they make wonderful gifts for friends and family members.
To sum up, the Sentro knitting machine is an amazing tool for anyone who loves knitting and wants to take their skills to the next level. With this machine, you can create beautiful and unique items that are sure to impress. Whether you're looking to make clothing, accessories, or home decor items, the Sentro knitting machine is an excellent choice.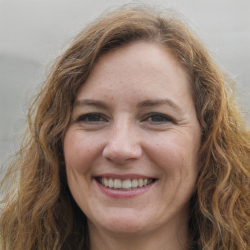 Latest posts by Adrianna Dune
(see all)