When it comes to making play dough with your kids, it can be tricky to come up with some new and interesting recipes.
All varieties of play dough create a similar texture, so it might be fun to switch things up a little. This is where we come in.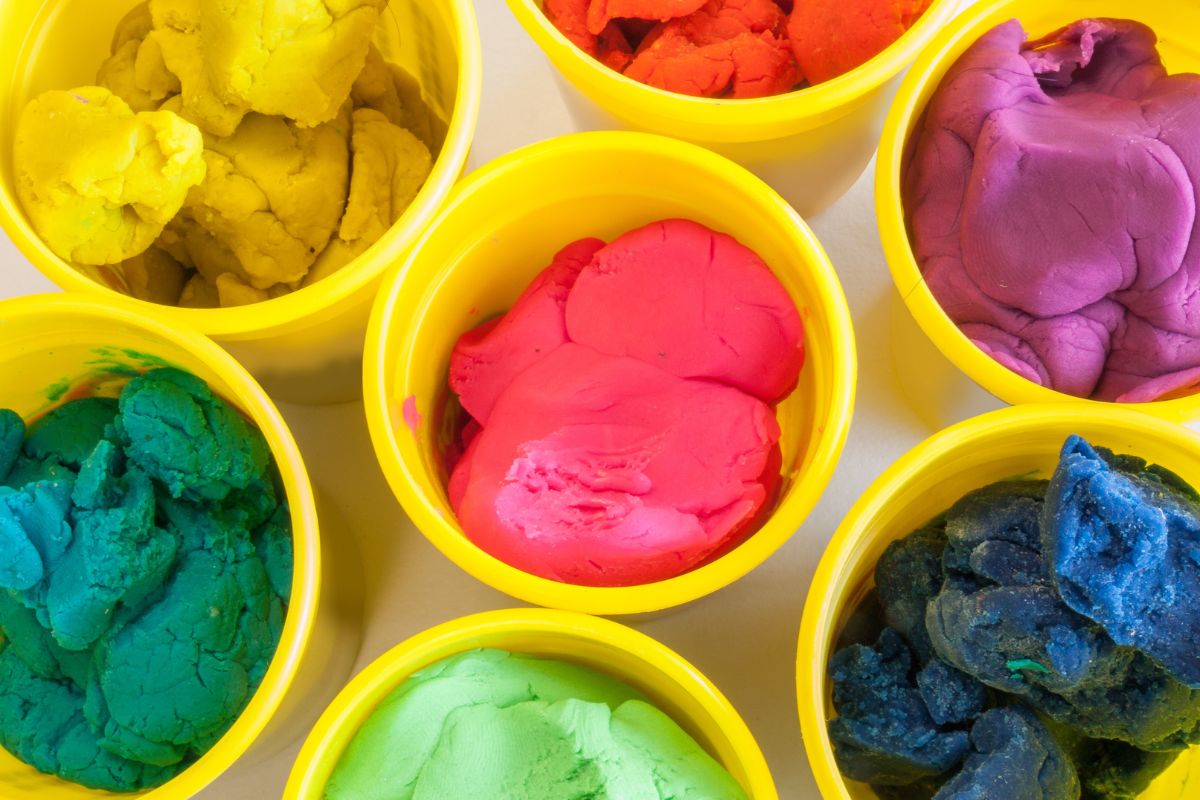 We've completed a sandy play dough recipe guide, that can add a little more fun to your sensory play.
It combines the texture of regular playdough along with kinetic sand in order to create a fun play time activity for both you and your children. 
What Is Sand Play Dough? 
Now, before we jump straight in, let's take a look at what sand play dough is. The ingredients you'll need in order to make this play dough are actually all super simple.
It's essentially the regular ingredients you'd gather together to make playdough, along with some sand. 
The best thing about this recipe, however, is that it doesn't require any messy dye like many other recipes out there. That's not unless you would like to add some, the choice is entirely up to you! 
After you've made this play dough recipe, you can go ahead and have some fun with it adding different objects and shapes. We promise your kids will adore this recipe. 
The Ingredients You'll Require 
Below, you'll find a list of all the ingredients you'll require in order to make your sandy play dough.
Most of them you'll already have in your home. 
1 ½ Cup Plain Flour – All you'll need is some regular plain baking flour. 
1 Cup Salt – This will help to give your play dough recipe some added texture. 
2 Tablespoons Of Oil – To make your play dough recipe more malleable 
2 – 3 Tablespoons Cream Of Tartar – This ingredient is absolutely essential for making the perfect play dough consistency. This amount is perfect for making it as soft as possible, and preventing it from crumbling. If you fail to add in the cream of tartar, your play dough won't last as long either. 
1 ½ Cup Sand – You can either purchase this in a store, or have fun collecting it yourself on a trip to the beach. 
1 Cup Water – You'll need to make sure that the water is boiling before combining it with your other ingredients, as this will help to create the perfect play dough texture. 
The Steps To Create The Perfect Sandy Play Dough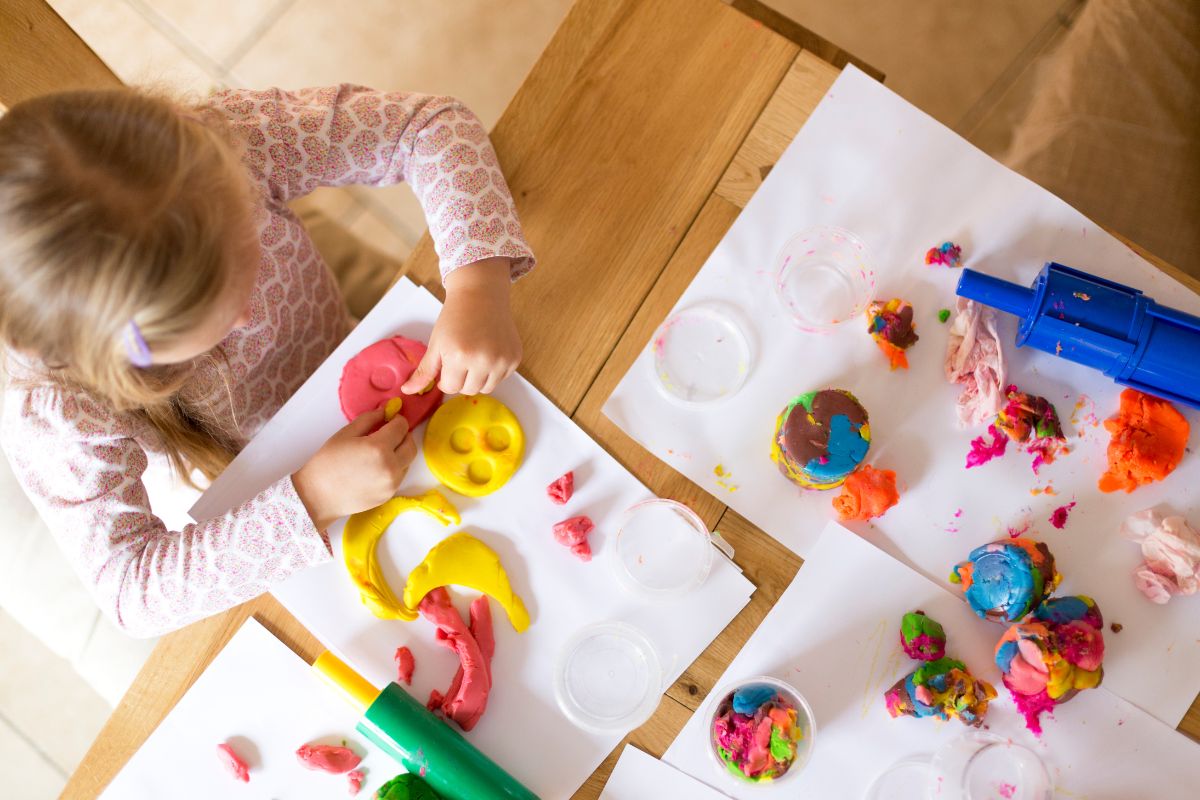 In order to make some amazing sandy play dough, all you'll need to do is follow the steps outlined below. 
Begin making your sandy play dough by combining all of the dry ingredients, including the plain flour, sand, and the salt. 
After you've done this, you can go ahead and add in your oil and cream of tartar. After you've done this, you'll need to add in approximately 1 cup of boiling water. Make sure that you combine these ingredients thoroughly. At the same time, make sure not to overmix, as it could become too runny as a result and disturb the texture of your dough. 
After you're finished stirring it, take note of the texture. Does it seem right? If it's still a little bit too dry, don't be afraid to add in some water in small increments. Stir intermittently until it's fully combined. 
Wait until the mixture has cooled down completely, then you can get to the fun part. Your kids will enjoy kneading the dough, helping it to achieve that texture we all know and love. Knead for around 5 minutes in total, or until it's the correct consistency. 
After you've finished kneading your dough, you can go ahead and play with it. 
How Do I Store My Sandy Play Dough? 
This is a frequently asked question that many people are curious about after they've finished making their play dough. Storing your dough properly will be the difference between it standing the test of time, or becoming moldy super quickly. 
In order to adequately store your sandy play dough, you'll need to wrap it in some simple plastic wrap. Make sure that it's bound tightly enough, and that it covers the entirety of the play dough. 
After you've done this, you can go ahead and seal it in an airtight container, where it should keep for a few months. You should make sure that the container is completely airtight, as otherwise it could become moldy.
Make sure you check it regularly for spots. 
If you've found that over time your play dough is getting too dry, don't worry! Just add in a little extra water before playing with it and it should go back to its original form. 
Fun Ideas For Playing With Your Sandy Play Dough 
Now that you've created your sandy play dough, you can go ahead and have some fun with it. Why not take a trip to the beach, and collect some of your favorite shells to put in the play dough. 
Another great idea would be to purchase some plastic fish that you can add into the texture too. You could even create a whole beach scene within a plastic tray.
Bear in mind that the play dough won't react well if you place it next to water, so just use some blue card paper to emulate this scene instead. 
Final Thoughts 
Making sandy beach themed play dough couldn't be easier with this recipe! The best thing about it is that you don't need many ingredients, or messy dyes.
Simply follow the recipe above, and enjoy making the fun creations with your kids.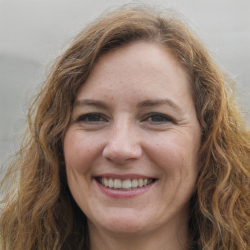 Latest posts by Adrianna Dune
(see all)